TIME STUDY: CASE HARDNESS TESTING OF AUTOMOTIVE CRANK PINS AND JOURNALS:
Free content from Buehler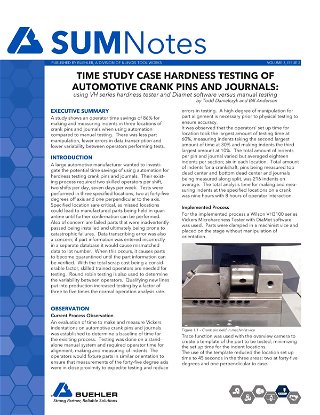 A study shows an operator time savings of 86% for making and measuring indents in three locations of crank pins and journals when using Buehler's hardness automation compared to manual testing. There was less part manipulation, fewer errors in data transcription and lower variability between operators performing tests.A large automotive manufacturer wanted to investigate the potential time savings of using automation for hardness testing crank pins and journals. Their existing process required two skilled operators per shift, two shifts per day, seven days per week. Tests were performed in three specified locations, two at forty-five degrees off axis and one perpendicular to the axis. Specified location sare critical, as missed locations could lead to manufactured parts being held in quarantine until further confirmation can be performed.For the implemented process a Wilson VH3100 series Vickers Microhardness Tester with DiaMet software was used.