Product Details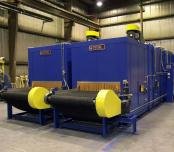 (Click to enlarge image) Wisconsin Oven manufactures a wide variety of continuous process ovens. Designs include flat conveyor belt style, chain conveyors, Ferris wheel, carousel, overhead trolley, serpentine, chain-on-edge, spindle, slat type, strip cure, print plate, pusher ovens, dog beams, wash-draw furnaces, as well as specialized custom continuous conveyor ovens (like multi-tier conveyor ovens).

We can also design our heating equipment to accommodate your existing conveyor. These conveyorized industrial ovens and furnaces are used in a wide range of applications and processes such as tempering, annealing, curing, preheating, drying, heat-shrinking, and heat-forming, just to name a few.

These continuous conveyor ovens are used in almost every industry, including aerospace, pharmaceutical, plastics, rubber, electronics, printing, finishing, automotive, as well as wood and metal finishing.